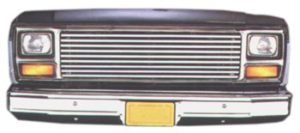 In Dayton, Ohio, a man was arrested for having sex with a van. Now we know there are girls out there described as 'vans', but in this case the van was a solid van. The man stuck his penis in the grill of the van and started to have sex with it. The man was arrested and charged with public indecency.
Over the years many people have been caught having sex with unusual objects. Another man from the lovely state of Ohio (Hamilton) was arrested multiple times for having sex with his pool raft. He didn't even bother to draw a face on it. His neighbours reported the man who was then arrested for the 5th time for public indecency... you can't even love pool rafts anymore. Maybe he should have used the one in his own pool...
Not only the US has weird couples. In Sweden a man attempted to have intercourse with a wasps nest! Now, we reckon that's not a very smart idea for obvious reasons. His attempt succeeded, evidence was found on the nest that implies the man managed to reach satisfaction, but over 50 wasp stings in his genitals and 100 more on the rest of his body was a little bit too much. He died.
[read the entire article]
read more...